App State Veterinary Technology Program Director, Virginia Corrigan, attended the Veterinary Leadership Experience, which takes place at the beautiful Ross Point Camp in Post Falls, Idaho every year in June. The Veterinary Leadership Experience is a week-long intensive experiential learning leadership training program for veterinary students, veterinary medical school faculty members, and veterinarians that encourages participants to "think outside the box" for personal and professional growth.


Corrigan recently joined the Veterinary Leadership Institute (VLI) Board of Directors, which is a non-profit organization dedicated to the development of healthy and resilient leaders who can make a positive difference for the profession, and organizes and implements the annual Veterinary Leadership Experience. As a new board member, Corrigan co-led a workshop for participants on resilience, and also served as one of the trained facilitators leading a veterinary student group through the various leadership activities and reflection exercises throughout the week. According to Corrigan, "The Veterinary Leadership Experience was a truly unique and career defining experience for me when I first participated as a veterinary student in 2008. I was fortunate to have the opportunity to return as a facilitator in both 2016 and 2017.


Through each experience, I have been exposed to thought leaders in the profession as well as a variety of positive leadership styles and skill sets that have influenced the way I show up as a leader for myself, amongst my family and colleagues, and within the veterinary profession. I am very grateful for the opportunity to give back to the VLI as a board member and have the incredible opportunity to positively impact the profession moving forward. I am looking forward to integrating this innovative style of leadership and communication training into the new Veterinary Technology program we are developing at App State to inspire and empower tomorrow's leaders in veterinary medicine". In addition to the Veterinary Leadership Experience event, the VLI organization has also developed the VLI Trek experience, which is aimed at developing leadership skills amongst all veterinary medical professionals, including credentialed veterinary technicians. Additional VLI programs include university programs, professional meetings, and private practice workshops for veterinary professionals.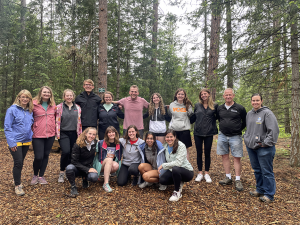 Tags: